After NYE 2019 Beer VS Wine, ended up with beer pipping wine to the finish in the final round, wine wanted to come back this year with a bang. And that they did. Beer & wine drew overall, but when it came to the final deciding vote, wine took home the crown by ONE VOTE! A true thriller that will be remembered forever. 
---
• Recipe • Vegetarian
Known for changing the hearts of men about the love for olives, I personally think it is safe to say that these Gordal Olives from Perelló are one of the best olives you'll ever taste.
While they are lovely to nibble on with a glass of wine or a beer, creating a tapenade out of these olives with the lovely Arbequina Olive Oil from Brindisa makes it a true winner as a starter for every dining table. 
---
• Charcuterie • Recipe
Found in our seasonal box this month, here is a quick and super easy recipe showing you how to elevate this delicious salted semi-cured beef from the incredible Italian charcuterie specialists Ham & Cheese Co! Fun fact, Carpaccio was invented in 1950 by Giuseppe Cipriani. 
---
• Beer
We have been building a great cellar collection at Friends of Ham for some time now. Scouring beer lists for hidden gems & being the fastest finger on the hottest lambic pre-orders has led to us having an extensive yet eclectic mix of incredible beers. 
---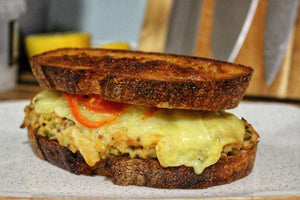 This recipe is inspired by certain ingredients that are currently available in our
online shop
. Pick of the week is
Ortiz Bonito Del Norte Tuna in Olive Oil
! During the coastal fishing season these tuna fish are individually line caught with live bait.